Ewood Park: Prestige
1885: Corner Flags
Blackburn Rovers are the only club to have won the English FA Cup three times in three consecutive seasons. For this achievement, Blackburn Rovers are the only club in English football with the right to display their club crest on the four corner flags. 
Rumours are that back in 1885, the Football Association could not afford the FA Cup Trophy for Blackburn Rovers. Hence the club was granted the unique permission to display the club crest on all four corner flags on match days.
The rumour has been denied by the Football Association.
1891: Home Championship
Date 
06 April 1891
Venue 
Ewood Park, England
Competition 
Home Championship , 1891
Fixture 
England 2 v 1 Scotland 
England Scorers
John Goodall [20 mins] 
Edgar Chadwick [30 mins]
Scotland Scorers 
Francis Watt [85 mins]
England Team
William Moon
Old Westminsters
Robert Howarth
Preston North End
Robert Holmes
Preston North End
Albert Smith
Nottingham Forest
John Holt       
Everton
Alfred Shelton
Notts County
William Bassett
West Bromwich Albion
John Goodall
Derby County
Fred Geary
Everton
Edgar Chadwick
Everton
Alfred Milward
Everton
Scotland
James Wilson, 
Walter Arnott, 
Robert Smellie, 
Isaac Begbie, 
John McPherson, 
John Hill, 
Gilbert Rankin, 
Francis Watt, 
William Sellar, 
William Berry, 
David Baird.
Attendance 10,000
Referee W Morrow [Ireland]
1924: Home Championship
Date
03 Mar 1924
Venue
Ewood Park, England
Competition
Home Championship , 1924
Fixture
England 1 v 2 Wales 
England Scorers
William Roberts
Wales Scorers
William Davies 
Ted Vizard 
England Team
Walter Sewell
Blackburn Rovers
Thomas Smart
Aston Villa
Thomas Mort
Aston Villa
Frederick Kean
Sheffield Wednesday
George Wilson
Sheffield Wednesday
Percival Barton
Birmingham
Samuel Chedgzoy
Everton
David Jack
Bolton Wanderers
William Roberts
Preston North End
Clement Stephenson
Huddersfield Town
Frederick Tunstall
Sheffield United
Wales Team
Albert Gray, 
Moses Russell, 
John Jenkins, 
Herbert Evans, 
Frederick Keenor, 
William Jennings, 
William Davies, 
John Nicholls, 
Leonard Davies, 
Richard Richards, 
Ted Vizard.
Attendance30,000
RefereeWatson [England]
1977: Bobby Moore Retires From English Football
Bobby Moore, World Cup winning Captain for England in 1966 played his final professional game in England for Fulham on 14 May 1977 against Blackburn Rovers at Ewood Park. Fittingly, Moore was also making his 1,000th appearance in senior football.
Blackburn Rovers presented Bobby Moore with a trophy to mark the occasion.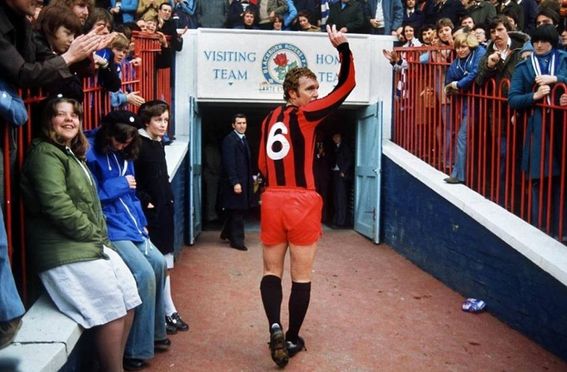 2002: New Zealand Rugby League Tour Of Great Britain And France
The 2002 New Zealand Rugby League tour of Great Britain and France was a tour by the New Zealand national Rugby League team. The New Zealand Kiwis drew the series 1-1 against Great Britain and also defeated Wales and France.
On 9th November 2002 Great Britain played New ealand at Ewood Park. New ealand won 30 - 16. Attendance: 16,654.
2004: UEFA European Under 21 Championship Qualifier
Result: England 2 - 0 Wales
Kick Off: 20:00, Friday 8th October 2004
Location: Ewood Park, Blackburn, England.
Fixture Type: UEFA U21 Championship 2004/2006
Referee: D.Ledentu (France)
Assistant Referee: J.Texier (France)
Assistant Referee: P.Larose (France)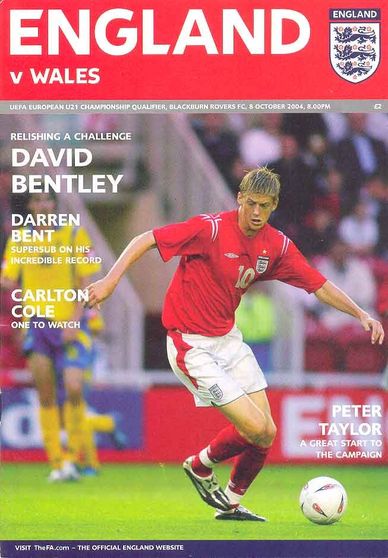 2005: UEFA Womens Championship
The 2005 UEFA Women's Championship was a football tournament for women held from 05.06.2005 - 19.06.2005 in Lancashire, England. 
England played two of their three First Round games at Ewood Park in front of 14,695 against Denmark losing 1 - 2 on 08.06.2005 and 25,694 against Sweden losing 0 - 1 on 11.06.2005.
England finished bottom of their group and were knocked out of the competition.
The Final was played at Ewood Park on 19.06.2005 between Germany and Norway:
German 3 - 1 Norway
Ewood Park, Blackburn, Lancashire.
Attendance: 21,107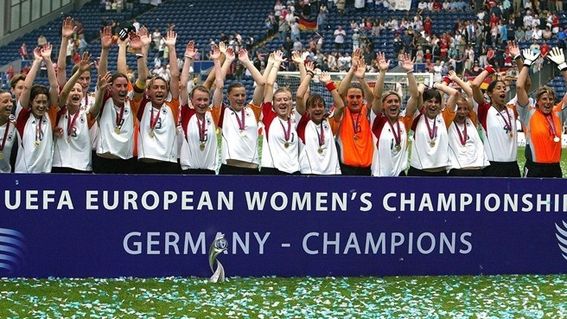 2006: Condoleezza Rice The US Secretary Of State (controversially) Visits Ewood Park
A local mosque had withdrawn an invitation because of threats by extremists to disrupt the visit, and anti-war activists had vowed to dog her every move during her two days in Lancashire with Jack Straw, the Foreign Secretary.
The police made sure she had no close encounter with the clusters of protesters that turned up to shout "Condi Rice! Terrorist!" as she made her way around Blackburn and Liverpool, where 2,000 turned out for the main anti-war demonstration.
Her trip was ostensibly an attempt to see the real country beyond the government offices of London. In an intriguing political courtship, Miss Rice last year went out of her way to take Mr Straw and his wife Alice to her home town of Birmingham, Alabama. Now it was their turn to show off his constituency of Blackburn, Lancashire.
The Foreign Secretary tried to draw on the slaving connection between the two places. He pointed out that cotton produced by slaves in the American south was exported to Liverpool, Lancashire and then turned into textiles in Blackburn's mills, and re-exported across the world. But such interest in history did not answer the nagging question of what she was doing in the land of the dark satanic mills.
But much of the day was a strange form of tourism. Instead of trying to get away from the crowds, they attracted them in the shape of journalists and protesters.
In the short drive from the BAE Systems military factory at Samlesbury to the Pleckgate school in Blackburn, Miss Rice saw two different faces of the country.
At the military factory managers had put up a banner heralding the enduring Anglo-American alliance: a Union Flag bound seamlessly with the Stars and Stripes.
But at the school, 200 protesters denounced what those allies had done in Iraq and held up the flag of Palestine, universal symbol of western oppression of the Arabs. "Hey! Hey! Condi Rice! How many kids have you killed today?" they chanted. The crowd included several dozen children.
Still, in the school's grounds, the children seemed excited enough by the arrival of the most important foreign visitor to Blackburn since Mahatma Gandhi came in 1931.
The moment that perhaps meant most to Mr Straw came when he took his guest to Ewood Park, home to Blackburn Rovers and "the centre of the world", according to the Foreign Secretary.
Mr Straw had planned to show her Blackburn playing against rival Wigan, but Sky television unexpectedly moved the fixture to Monday. So Miss Rice had to make do with a few children playing football in an empty stadium, and a chat with Rovers' American keeper Brad Friedel. In Ewood Park's conference room, the two secretaries delivered speeches on the virtues of democracy in the Middle East.
In keeping with her view that America had to be more understanding of the world, Miss Rice admitted that the US had committed "many mistakes, maybe thousands of mistakes" in recent years.
She was ALSO on a musical pilgrimage to discover the meaning of the Beatles song, A Day in the Life, and its baffling lyrics: "I heard the news today, oh boy. Four thousand holes in Blackburn, Lancashire." Before her trip, one newspaper had quoted Miss Rice as saying: "I never understood that Beatles song. Perhaps now I will get the chance."
2014: Centenary Shield
The English Schools' FA Under-18s took on their Scottish counterparts in a Centenary Shield match at Ewood Park, Kick Off 19:00, Friday 11th April 2014, which ended 1 - 1.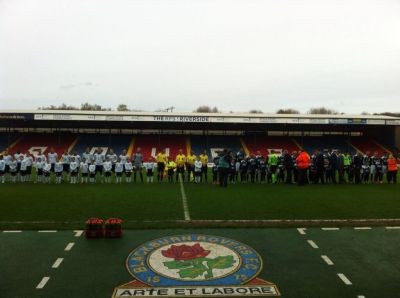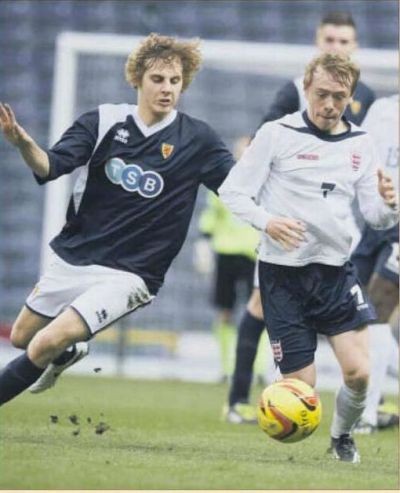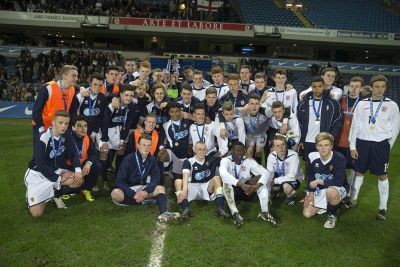 The Centenary Shield was presented to Scools Association Football International Board in 1973 by the Scottish FA to mark the Association's centenary year. It is currently contested for by U18 Boys selects representing the Schoolboy Associations of the British Isles countries.
Past winners of the Centenary Shield, including occasions on which the award has been shared, have been:
1973 England & Wales
1974 England
1975 Wales
1976 Scotland & England
1977 Wales
1978 Scotland
1979 Scotland
1980 England
1981 Wales
1982 England
1983 Scotland
1984 England
1985 England
1986 England
1987 England
1988 England
1989 England
1990 Switzerland
1991 Switzerland
1992 England & Switzerland
1993 England
1994 England
1995 Switzerland
1996 N. Ireland
1997 England
1998 N Ireland
1999 N Ireland
2000 Scotland
2001 England & Scotland
2002 England
2003 Rep of Ireland
2004 Rep of Ireland
2005 N Ireland & Rep of Ireland
2006 England
2007 England
2008 Rep of Ireland
2009 England & N. Ireland
2010 Rep of Ireland
2011 Scotland & N Ireland
2012 England
2013 Northern Ireland