Blackburn Rovers: The Men Who Built The Club
John Lewis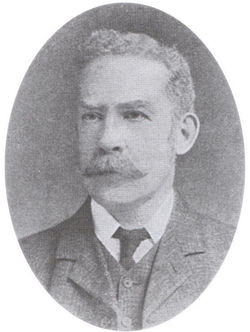 John Lewis (30 March 1855 - 13 January 1926) was born in Market Drayton, Shropshire. While at Shewsbury School he developed a keen interest in football.
In 1868 Lewis moved to Blackburn. At this time the town was more interested in cricket than football. According to local historian, Charles Francis: "No purely Association football was played at this time in East Lancashire, though there was a recreation, a mixture of Rugby and Association, known as the Harrow game, at which the the youth of the town, including Mr. A. N. Hornby, were experts."
On 5th November 1875, John Lewis and Arthur Constantine, who also been educated at Shrewsbury School, organized a meeting at the St Leger Hotel in Blackburn to discuss the possibility of establishing a football club in the town. At that time, the game was dominated by former public school students. Seventeen men attended the meeting and it was decided to establish the Blackburn Rovers Football Club. Lewis was appointed as treasurer whereas Walter Duckworth became secretary of the club.
Blackburn Rovers played their first game on 11th December 1875. The team included John Lewis, Alfred Birtwistle, Walter Duckworth, J. T. Syckelmoore, Thomas Greenwood, Harry Greenwood, Jack Baldwin and Arthur Constantine. The game ended in a 1-1 draw. The team played its early games at Oozehead, a piece of farmland on the road to Preston. In 1877 they began playing matches at Pleasant Cricket Ground.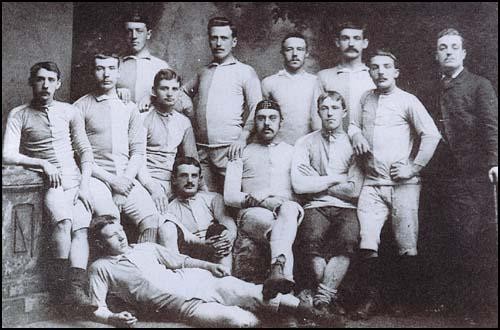 The first known photograph of Blackburn Rovers. The players are numbered:
John Duckworth (2), Richard Birtwistle (4), John Lewis (5), Fred Hargreaves (6),
Walter Duckworth (7), Alfred BirtwisGtle (8), Jack Baldwin (9), Thomas
Greenwood (10), Doctor Greenwood (11) and Arthur Thomas (13).
In 1879 John Lewis helped establish the Lancashire Football Association. Later that year he was appointed as Secretary of the Worcestershire Football Association. A post he held for 21 years. Later he served as vice-president of the Football Association and the Football League.
Lewis was also an active member of the Temperance Society. After his football career came to an end he became one of the countries best referees. This included officiating at three FA Cup Finals (1895, 1897 and 1898).
At the age of 60 he refereed the 1908 Olympic Games final at White City. Despite his age he continued to work as a referee and twelve years later Lewis was asked to officiate at the 1920 Olympic Games. He refereed the semi-final between the host nation Belgium and the Netherlands. The Belgian national newspaper L'Action Nationale wrote an editorial on September 4, 1920 which read: "Lewis refereed the game magnificently on Thursday" and supported the idea that the 72 year old should take charge of the final between Belgium and Czechoslovakia.
The match took place on 2nd September, 1920. Belgium took a 2-0 lead and when Lewis sent off Karel Steiner for a bad foul in the 40th minute, the Czech team walked off the pitch. Belgium was therefore awarded the gold medal. The Czech delegation made the following statement in regard to their protest: "The majority of the decisions of the referee Mr. Lewis were distorted and it was obvious that it gave the public the wrong impression in regard to our game. Also both Belgian goals were the result of incorrect decisions of the referee and we seek a rigorous investigation on that point."
John Lewis died on 13th January 1926.
At his passing, the Football Association stated,
"His influence on the game at home and abroad was immense and he pioneered the game of football not only through Great Britain and Ireland, but on the Continent, South Africa and Australia. A most remarkable man who left his mark in many directions and soccer will probably never see his like again."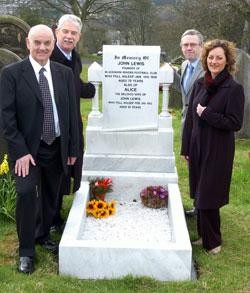 Arthur Constantine
Arthur Constantine developed a love of football while studying at Shrewsbury School. After leaving university he moved to Lancashire where he became friends with John Lewis. On 5th November 1875, Constantine and Lewis, organized a meeting at the St Leger Hotel in Blackburn to discuss the possibility of establishing a football club in the town. Seventeen men attended the meeting and as Charles Francis pointed out in his book, History of Blackburn Rovers (1925): "all present, including several young fellows who had just finished their education at public schools, signified their willingness to participate in the game and the motion to create a club was carried unanimously."
John Lewis agreed to be treasurer of Blackburn Rovers Football Club and Walter Duckworth, a former pupil ofClitheroe Grammar School and the son of a local timber merchant, was appointed as the club's first secretary. Two local businessmen, Alfred Birtwistle, directory of a local firm of cotton manufacturers, and Richard Birtwistle, whose family owned cotton mills in the Blackburn area, also became involved in running the club. Jack Baldwin, the son of a wealthy Blackburn businessman, also agreed to play for the team.
J. T. Syckelmoore, a former student of St. John's College, Cambridge and a teacher at Queen Elizabeth's Grammar School in Blackburn also joined the club. So also did Thomas Greenwood, who was appointed captain of Blackburn Rovers. His two brothers, Harry Greenwood and Doctor Greenwood, also played for the club.
Blackburn Rovers played their first game on 11th December 1875. The team included Constantine, Alfred Birtwistle, Walter Duckworth, John Lewis, J. T. Syckelmoore, Thomas Greenwood, Harry Greenwood and Jack Baldwin. The game ended in a 1-1 draw.
The team played its early games at Oozehead, a piece of farmland on the road to Preston. In 1877 they began playing matches at Pleasant Cricket Ground. At a game against Preston Rovers in December, Henry Smith, collapsed and died of a heart-attack. The following year Blackburn Rovers moved to the ground used by the Alexandra Meadows Cricket Club.
According to the author of The Book of Football: "It was a modest beginning, and as the enthusiasts had no idea of the future that was in store, no complete records were kept for the first few seasons." Those existing documents show that Arthur Constantine apparently left the club in 1877. 
Lawrence Cotton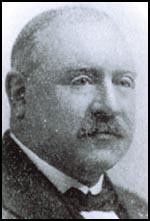 Lawrence Cotton was born in Blackburn. He attended Blackburn Grammar School and started work in the cotton trade in 1875. Lawrence and his brother, Clement, later established their own company.
The business was a great success and in 1891 Lawrence Cotton became a director of Blackburn Rovers. He became chairman of the club in March 1905. Cotton's investment in the club enabled the manager, Robert Middleton, to buy some great players.
Soon after Cotton became chairman, Middleton s igned Welsh international striker, Billy Davies from Wrexham. Ellis Crompton, another young player with a reputation for scoring goals, also joined the club.
Blackburn Rovers finished in 9th place in the 1905-06 season. Adam Bowmanwas once again the club's top scorer with 15 goals. His strike partner, Billy Davies, added 11 more. Robert Middleton made several significant signings that year, including Jack Martin, Edwin Latheron and Wattie Aitkenhead.
Lawrence Cotton helped to raise the money to improve the Elwood Park ground. On 1st January, 1907, the recently constructed Nuttell Street Stand was opened. It could accommodate 4,112 supporters seated in the upper tier, with room for a further 9,320 standing in front. A crowd of 35,000 watched Blackburn draw 1-1 withPreston North End.
Blackburn Rovers finished in 12th place in the 1906-07 season. They were knocked out of the FA Cup byTottenham Hotspur but won the Lancashire Cup when they beat Liverpool 3-0. Jack Martin proved to be a great buy and ended up the club's leading scorer with 17 goals.
1907-08 season was very disappointing. Blackburn Rovers was knocked out of the FA Cup in the first round when they were defeated by Second Division Leicester Fosse. They also had a first round exit in the Lancashire Cup. Blackburn's league form was little better and after a late rally they finished in 14th place.Billy Davies, Edwin Latheron and Jack Martin, ended up as joint top scorers with 9 goals each.
Blackburn's new signings failed to shine. The Blackburn Times commented: "The second-rate players might advantageously be reduced and the money thus saved be utilized in paying the maximum wage to first-class men."
Robert Middleton appointed the former Preston North End star, Bob Holmes, as trainer. This had a good impact on the team as they obtain 4th place in the 1908-09 season. Billy Davies scored 19 goals in 27 league appearances. This included four goals against both Bristol City and Everton. Ellis Crompton (10) andEdwin Latheron (9) added to the impressive number of goals scored that season. Blackburn also won the Lancashire Cup and the East Lancashire Charity Cup that season.
Blackburn continued their good form the following season and by October 1909 they became leaders of the First Division of the Football League. They lost their position in January 1910 and finally finished in 3rd place behind Aston Villa and Liverpool. Blackburn's 45 points was the best total they had ever accumulated in a season.
Blackburn's defence was outstanding that season. In goal was England international Jimmy Ashcroft. Bob Crompton and Arthur Cowell were a formidable full-back pairing. George Chapman played at centre-half whereas Albert Walmsley and Billy Bradshaw were the wing-halfs. An injury to Billy Davies caused the club serious problems in front of goal. Wattie Aitkenhead was top scorer with 14 goals and the consistent Edwin Latheron added 10 more.
In 1911 Robert Middleton signed Jock Simpson from Falkirk for a fee of £1,800. He joined a foward line that included at different times in the season, Edwin Latheron, George Chapman, Walter Anthony, and Wattie Aitkenhead. Middleton also signed Alf Robinson to back up Jimmy Ashcroft. The defence looked very strong with players like Bob Crompton, Arthur Cowell, Albert Walmsley, Percy Smith and Billy Bradshaw in the side.
The 1911-12 season began badly with Blackburn Rovers losing two of its first three games. Robert Middletondecided to move George Chapman from centre-half to centre-forward. This was a great success and Blackburn's form gradually improved and the team went on an unbeaten run that lasted three months. This took them to the top of the league.
Despite being defeated by Bolton Wanderers and Arsenal, Blackburn went on another good run and by the end of the season they had three more points than main challengers, Everton. It was the first time in Blackburn's history that they had won the Football League title. Top scorers were Wattie Aitkenhead (15) and George Chapman (9). Jimmy Ashcroft and Alf Robinson played well and Blackburn only conceded 43 league goals. Only Everton let in fewer goals that season.
Lawrence Cotton's investment was beginning to pay dividends. Blackburn Rovers started the 1912-13 season very well and were undefeated until December. This was followed by five successive defeats. In an attempt to regain the championship, Robert Middleton broke the British transfer record by buying Danny Shea fromWest Ham United for £2,000. Patsy Gallagher, described Shea as "one of the greatest ball artists who has ever played for England... his manipulation of the ball was bewildering."
Robert Middleton also purchased another forward, Joe Hodkinson for £1,000. Shea scored 12 goals but it was not enough and Blackburn finished 5th that season. Edwin Latheron (14), Wattie Aitkenhead (13),George Chapman (10) were the club's other top scorers. The defence played well and conceded only 43 goals league goals. Only Manchester City had a better defensive record that season.
In July 1913, Alec Bell, the Scottish international left-half, joined Blackburn from Manchester United for £1,000. Bell was recruited as cover for the half-back line of Albert Walmsley, Percy Smith and Billy Bradshaw.
As well as buying the top players, Lawrence Cotton also invested in ground improvements. He spent 7,000 on a new stand by the River Darwen. This provided covered accommodation for some 12,000 spectators.
In the 1913-14 season Blackburn Rovers once again won the league title. Danny Shea was in great form scoring 27 goals. Edwin Latheron also did well that season with 13 goals. Both men also won international caps for England that season. They joined other Blackburn players, Billy Bradshaw, Jock Simpson, Bob Crompton and Joe Hodkinson in the England team. The defence also performed well and only let in 42 league goals that season.
The following season Blackburn Rovers broke the transfer record again when they bought Percy Dawson for £2,500 from Heart of Midlothian. Blackburn Rovers scored 83 goals in 1914-15 season. However, their defence was not as good and Blackburn finished 3rd behind the champions, Everton. Dawson was top scorer with 20 goals. He was followed by Edwin Latheron (17), Danny Shea (13), George Chapman (9) and Wattie Aitkenhead (8).
Blackburn Rovers was one of the first clubs to suggest that the Football League should be brought to a halt. Lawrence Cotton stated that: "We shall pull through some way or other, and then, after the war is over, we shall try to build up what we have lost. But for the present the one thing, and the only thing, is the war."
Lawrence Cotton became Mayor of Blackburn in 1917 and as a result of "the increasing pressure of civic and other duties" resigned as chairman of Blackburn Rovers on 19th February, 1919.
Lawrence Cotton died in May 1921.
Jack Walker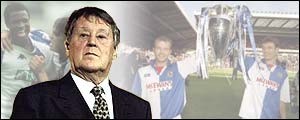 Jack Walker's money was made in the steel industry but his heart always did, and always will belong to Blackburn Rovers Football Club.

After leaving school at 14-years of age he began working as a sheet metal worker, before taking over the family business with his brother Fred. Together they transformed the company with Jack Walker selling the company to British Steel for £360 million in 1990.

Walker retreated to Jersey as a tax exile in the mid 1970's, and in 1986, at the request of the chairman at the time Bill Fox, Walker or Uncle Jack as he is fondly known to the Rovers fans donated funds for a new Stand at Ewood Park, known as The WalkerSteel Stand. Upon selling WalkerSteel to British Steel he purchased Jersey European Airlines also acquiring various property interests. 

Walker then took over Blackburn Rovers, buying a 62% controlling stake in 1991 with them in the old Second Division and began ploughing millions into the club, £20 million of which would be used on redeveloping the stadium and millions more on funding the big money transfers of many footballers.

He would convince Liverpool legend Kenny Dalglish out of his self-imposed retirement, having earlier resigned from his managerial post at Anfield. Under Dalglish, the money started to flow and promotion to the newly renamed Premier League would be achieved via the play-offs at the end of the 1991-1992 season.

More signings and high-profile signings at that would be made using Uncle Jack's money. The British transfer record was smashed to land Alan Shearer for £3.5 million from Southampton in 1992. These signings helped Rovers to finish fourth in the League, before finishing the following season as runners up to Manchester United.

Breaking the transfer record again to land Chris Sutton for £5 million for the 1994-1995 season would see Walker's ultimate achievement as his side, in only their third season back in the top flight won the 1995 Premiership Title on a dramatic final day of the season battle. Despite Rovers' defeat, ironically against Dalglish's former side Liverpool a Manchester United draw with West Ham United wouldn't be enough to deny the club their first Title in 81 years.

Not even Uncle Jack's millions could sustain Rovers' success. With the Premiership becoming big business top footballers from the continent were being attracted, but the lure of a small Lancashire town would not appeal to too many of them. Walker and Rovers had millions but they were not a big club, with their fan base small the ground would rarely be full.

The decline began under Roy Hodgson and then his successor Brian Kidd, with whom Rovers would be his first taste of sole responsibility for a team, having previously worked for many years under Sir Alex Ferguson's leadership, the club would be relegated. Not even a plea from an emotional Walker ahead of a crucial relegation match in 1999 could save the club.

The club Walker loved and had built up, vowing at any costs to bring the Title back to Ewood Park as he had, had been relegated at the end of the 1998-1999 season, just four years after winning the Premiership. The disappointment could not be hidden by the tearful man who as well as being the financial benefactor was also their biggest fan.

Jack Walker, a Blackburn Rovers fan through and through would never be afraid to dip his hand into his pocket for the club he'd always supported and loved yet sadly he would not be able to see this club return to the top flight as he passed away at the age of 71 after losing his battle against cancer early during the 2000-2001 season as Rovers finished as runners up in the old Division One thereby returning to the top flight where they have remained, and indeed again started moving forward.

Never once could Walkers commitment to the club be called into question, this is how he would once explain his love for the club, what it meant to him and why he was happy to be so committed to Blackburn Rovers Football Club:

"You have to get pleasure out of it. It has put Blackburn back on the up and shown that if you believe in things they can be done. If they don't win then I am bloody miserable on a Sunday."
Jack Walker died on 17th August 2000.