"Blackburn has no 'lads' " - Foggy: The Explosive Autobiography by Carl Fogarty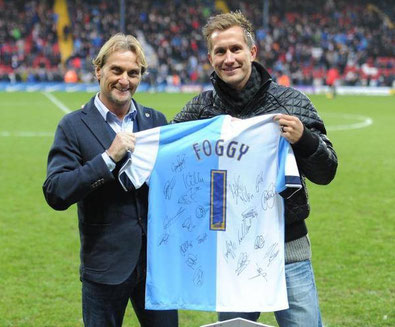 KING of the jungle Carl Fogarty has once again proved that he is the nation's favourite after the voting figures for the hit show were released.
ITV, who broadcast I'm A Celebrity Get Me Out of Here, has announced that the four-time World Superbike Champion topped the poll every day to stay in the competition at the expense of of his camp mates.
It comes as he flew back home and posted a picture of himself with a plate of pie and chips stating that it was British comfort food.
The 49-year-old from Blackburn gathered the most votes every day during the knockout stages. There was only one vote he failed to top – and that was only open to four contestants.
Never dipping below 23 per cent of the vote, Carl unknowingly blew away his star-studded competition, before racking up 59.91 per cent of the vote in the final.
By the time former MP Edwina Currie was voted off in fourth place with just 15 percent of the votes, Foggy was scooping a whopping 39 per cent.
When presenter Melanie Sykes took home third place he'd shot up to nearly 47 per cent.
But it was a different story with Bushtucker Trials, as former playboy bunny Kendra Wilkinson earned the majority of the votes for most trials.
Foggy was always in the mix, but never earned enough votes to do much more than his original efforts in a grave-style bunker with snakes, which helped him escape the Celebrity Slammer.
However, he did join the team effort in the immunity challenges and took part in the superhero-themed Celebrity Cyclone at the end of proceedings.
Clearly delighted to return to the UK, Foggy said: "I was shocked to be honest when I saw the voting figures.
"To come top of all but one vote is amazing and I'm over the moon.
"I'm overwhelmed with support and I'm really grateful to everybody who voted for me.
"The level of support from the public that I have got has been fantastic.
"I got asked to do the show in March, and had to keep it quiet for months I was asked about ten years ago but I said no straight away.
"I'm planning to chill out over Christmas but I don't have any firm plans for 2015 yet."
by Jon Robinson , Reporter at the Lancashire Telegraph.
The Blackburn Bullet - Four-time world superbike champion, Blackburn's Carl Fogarty is, by most yardsticks, the greatest motorcycle rider Britain has ever produced. In his autobiography he recounts a lifetime of thrills and spills on and off the racing circuit.
In a world where it is becoming increasingly difficult to maintain a dominance in any sporting discipline, Fogarty has won the World Superbike Championship no fewer than four times.
He has come a long way since the early 1980s when he used to travel to circuits as far away as Finland in a clapped-out old horsebox. But those early days were also wild and enjoyable times. Tales of hell-raising abound: staggering home at five in the morning before the Isle of Man TT was clearly not the best preparation for one of the most dangerous races in the world.
This danger was experienced by Fogarty in very real terms in 1986 when, after a particularly severe crash, his compound fracture of the leg became infected around a traction pin and snapped again in a later race. He describes the other injuries he has suffered, talks about the tragedies that he has witnessed and exposes the sport's reckless riders.
In such an octane-fuelled sport as Superbikes there are bound to be disagreements and Fogarty has had more than most. Infact, he generally doesn't get on with his fellow riders and is not afraid to say so.
Away from the hype though, Fogarty is very much the laid-back family man. His story is a compelling tale of a typical working class lad made good in one of the most dangerous and glamorous arenas in world sport.